EdisonDiamondDisc.com presents:

"SAVE YOUR VICTROLA FROM THE UPS/DHL/FEDEX DELIVERY MONSTERS!"

This actually applies to ANY floor model antique phonograph.
If you have sold your machine, or are shipping it in for repairs, here are highly detailed instructions for proper packing
and shipping your floor model Victrola phonograph. From my experience receiving and shipping these, I can give you a liberal estimate
that 95% of all Victrolas shipped via Standard GROUND/AIR service receive internal and/or external wood/metal damages
due to the heavy handling that they endure during the shipping process, and IMPROPER PACKING!!!!!!
I've seen $6500 phonographs arrive in splinters (LITERALLY)!
Simple preparation and proper padding will save you from needing big-$$$ repairs and mind-numbing insurance claim processing.

BUYERS: Send these instructions to the seller so they can pack the machine PROPERLY!
Fact of the matter is, floor model phonographs are TOO FRAGILE and TOO HEAVY to be shipped by UPS GROUND.

READ THAT LAST LINE 25 TIMES UNTIL YOU BELIEVE IT! Dozens of phonographs are lost EVERY DAY to irrepairable
damages incurred from the monstrous handling of these oversize (& heavy) items of musical antiquity.

AVOID THIS: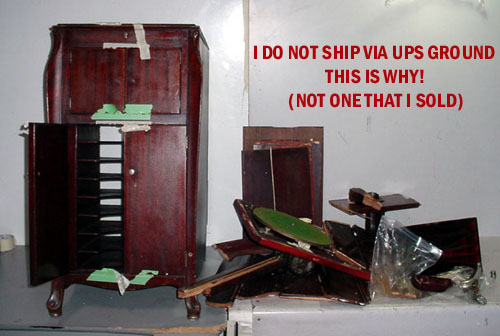 A very early example of a VV-XI with the crescent half-moon corner details, sold at an insurance

auction after the insurance claim was paid. What a mess..........




DO NOT SHIP YOUR PHONOGRAPH IF

YOU CAN NOT SHIP IT IN A PADDED BOX/CRATE VIA TRUCK FREIGHT or FURNITURE MOVING COMPANY.



Any other method almost guarantees damage upon delivery. UPS/DHL/FEDEX Ground/Air services drop boxes of all sizes.
The wood panels of a floor model phonograph cabinet are held together with fragile hyde glue, which can EASILY crack and loosen, allowing the cabinet to literally come apart at its seams, and break, splinter, and crack. If you can't ship it properly, then DON'T SHIP IT AT ALL.

Examples of machines I have shipped. Box on left has a $3000 Victrola Model 18 (XVIII) in mahogany).

Box on right has a $10,000 Edison C-2 Radio Phonograph. I don't take any short cuts.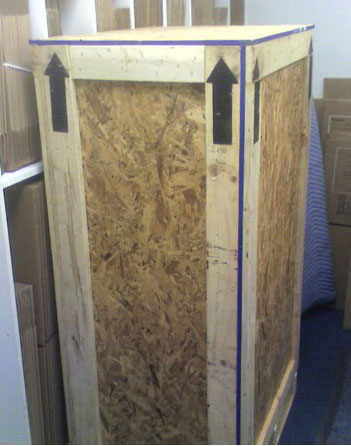 If you have made it this far, you must be very determined to do a good job! These instructions are very basic, and assume that you will have 3-4" of padding
all around the cabinet in either a large custom-cut double-wall box, or even better, a wooden crate with "UP" clearly marked on it with arrows.

1. Remove all needles, record brushes, records, needle cups, and ephemera from the machine.
2. Remove turntable.
3. Remove entire tone arm (usually 3 or 4 flat head screws hold it down to turntable compartment floor).

***These parts will need to be packed properly in a seperate box, or inside the record storage cabinet of the phonograph***

***ALLOW MOTOR TO FULLY WIND DOWN***

4. Using rubber bands, secure top horn doors and lower cabinet doors so they will not open on their own.
5. Pack inside of lid with wadded bubble wrap or newspaper. Allow some light pressure when closing lid (1" or so when lid is in the closed position).
6. Put a large garbage bag over top of machine. While holding lid closed, wrap some clear tape over the plastic bag, around the top body of the cabinet. This should hold the lid FULLY CLOSED. Do not get any plastic tape on the shellac finish of the cabinet! The tape will take the finish right off!
7. At this point, the machine should be carefully put in a large enclosure (double wall box), and padded on all sides with foam (including bottom).

**DO NOT ALLOW LEGS TO SIT ON BOTTOM OF BOX! The phonograph should sit suspended on a foam block, or something more substancial).
Legs break easily, especially on soft mahogany cabinets.***

I have successfully shipped phonographs using UPS TRUCK FREIGHT (domestic and international), and other truck freight companies.


Suggestions on how to make this article better? Email me! wyatt (at) edisondiamonddisc (dot) com