email:
wyatt *at* EdisonDiamondDisc.com
phone:
five eight five, two two four, five four five three
a note for 2015
: this website is a mad mess of information, added randomly, at whimsy. I will TRY to keep it somewhat more organized
but no guarantees are made. I have LOTS of new information to post, for your enjoyment. Have a look around............

NEW and unsorted information:
PHONOGRAPH RESOURCES:

Restoration & repair of a mahogany Herzog disc record cabinet

Restoration of a worn 1890's Edison TRADE MARK decal

How to SAFELY CLEAN Edison Diamond Disc records

How to safely clean Edison Blue Amberols

Watch/Listen to an Edison C-2 Radio Phonograph!

What records can be played on an Amberola?

Etched, paper labels, quality and surface noise explained

Pictures of the famous Edison tone tests, Edison Artists, etc

Edge chips, delaminating, and other record anomalies

Why does my Blue Amberol not fit on the phonograph properly?

Restoring a fire damaged Edison Dealer cylinder record cabinet

Junk? NO! PRESERVE THAT LID!!!

Cleaning up my 1898 Edison Home phonograph, a long term pictorial

Cleaning up my 1898/9 Edison Home (Home-A #2!!!)

Cleaning up my 1901 Edison Triumph, a short pictorial



See a coin-op 1901 Columbia Graphophone BS operate in detail

The exquisite B&L Duo-Vox phonograph reproducer!

Edison photograph GALLERY!

LET US NOT FORGET: Thomas A. Edison's Message of unity


DOCUMENTS



Edison LONG PLAY dealer announcement

Edison dealer Instructions for demonstrating DANCE REPRODUCER

Columbia Street 300' recording horn test pressings
with corresponding matrix numbers.
Page1 Page2 Page3

Edison C-2 Radio Phonograph SERVICE MANUAL (Adobe .PDF)

Edison C-2 Radio Phonograph SERVICE BULLETINS (Adobe .PDF)


late KEEN-O-PHONE sales booklet, scanned for your enjoyment. Adobe .PDF is HERE. Password for opening file is "volvoic"

Interview with Karl Ehricke, employed by Edison to investigate the problem with surface noise on the WW1 era Diamond Discs. VERY INTERESTING ARTICLE. 35 pages, PDF format. DOWNLOAD IT HERE!




Charles Smith has provided

these beautiful plans

so you can build this working tinfoil phonograph as featured in Scientific American!


Page1

Page2



Microsoft Excel database file of all published/un-published Edison Diamond Disc records

Edison Diamond Disc ONLINE repair manual!



SELLING A MACHINE? SHIPPING A MACHINE?
SELLING RECORDS? SHIPPING RECORDS?

DON'T LET YOUR PHONOGRAPH ARRIVE LOOKING
LIKE THIS!!!!!!!! ----------------------->>>>>>>>>>>>


Follow these instructions to PROPERLY pack and ship your
phonograph, to avoid unpleasant damages during shipment.

Select phonograph type for specific instructions:

-AMBEROLA-

-EXTERNAL HORN TALKING MACHINE-

-VICTROLA-


RECORD SHIPPING:

-78rpm discs-

-wax cylinders-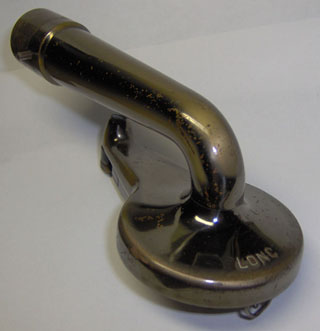 Short lived LONG PLAY reproducer used to play 24 min 10" Discs, and the 40 min 12" Discs.
Note the word LONG stamped into the head, and the canted angle to improve tracking. This has a significantly smaller stylus tip radius to play the near-hair-thin grooves of Edison Long Play Diamond Discs. The groove was narrower than a modern 33-1/3 LP record, spinning at 80rpm, under tremendous stylus weight! Incredible! Long Play Discs must ONLY be played with a Long Play reproducer AND Long Play GEAR SET. The gear set slows down the horn/reproducer tracking to necessitate playback of these microgroove records.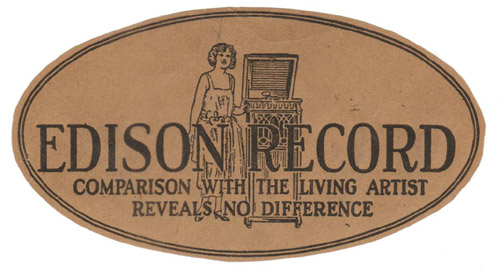 The vertically cut Edison Diamond Disc recordings allow the sinusoidal waves of sound to be "lifted" off the disc surface in a near frictionless manner. Recordings could be played thousands of times without showing signs of wear unlike the Berliner method of reproducing sound, which created a lot of dust and record wear from the steel needle tracking its way along a shaky groove.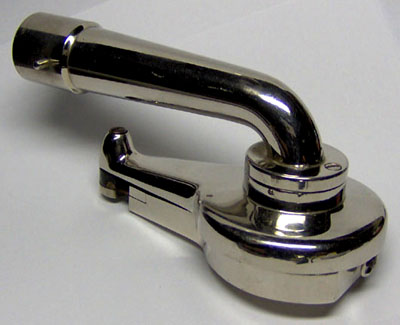 Edison Diamond Disc DANCE reproducer, with 3-screw flange between top tube and reproducer body. This was released to play ACOUSTIC Fox Trot "dance" Diamond Discs before the electrically recorded Diamond Discs were released by Edison. The goal was GREATER VOLUME. When the electrically recorded 52,000 series records came out, the next version named the "New Standard" or "EDISONIC" was produced. It was technically different in that the Edisonic diaphragm was thicker, and did not have a suspension spring above it (that is why the Dance has a flange, to access the suspension spring). The Edisonic's heavier weight helped keep the diamond stylus down in-the-groove, to track the higher modulation of the electrical recordings, and to eliminate blasting and strident notes. The Edisonic also plays acoustic discs quite well, and is an excellent upgrade still.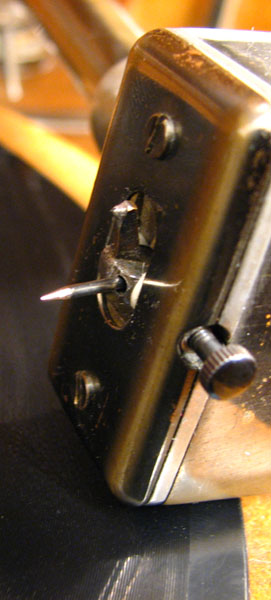 Detail of the special electric pickup on Edison C-2 Radio Phonographs. The C-2 is capable of playing electrically recorded Diamond Discs, as well as Needle Type records via insertion of a Medium Tone steel phonograph needle. Observe the diamond
stylus mounted on an arm just above the needle chuck.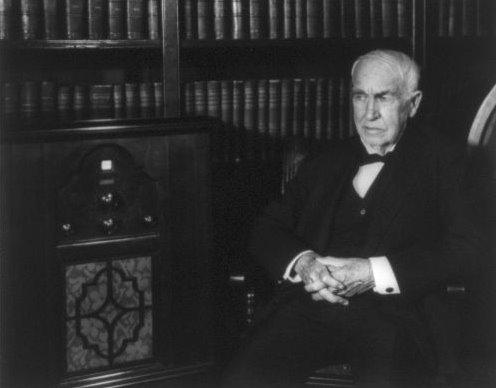 T.A. Edison trying to understand the music of the young people.
(c)2015 EdisonDiamondDisc.com